IRM assesses wastes and what can be done with them including the costs, revenues, operating maintenance and replacement costs etc.. While this is a dynamic process and each application is different, there are some key questions such as: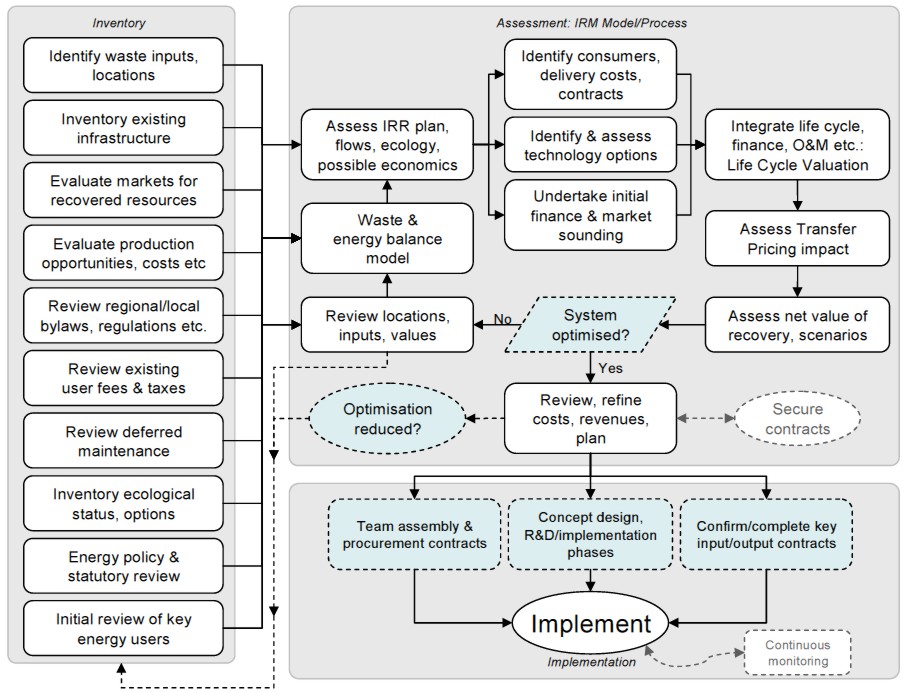 What volumes and types of waste do you have and how wet are they?
Where are the wastes located, how are they collected and at what cost?
What can the wastes be turned into and at what cost?
What can the recovered resources earn, where are the markets and contracts and what's the cost to get them to buyers?
How certain are the contracts for both feedstock supply and sale of recovered resources?
Where do the wastes currently go and where might they go to best take advantage of revenues? Are they different?
What are the political and logistical opportunities and barriers?
Are heating, cooling and electricity part of the potential? Are these really worthwhile pursuing? What are the base loads?
Do you have a background in this and can you create the business case? Do you need help?
How will you procure this? Buy the equipment? Lease it? Do you want to outsource the service to reduce risk?
Are grants and/or financing available and do you want to partner or fully control the direction? Are the grants certain or will they hold things up?
What oversight or possible interference is there from organisations you don't control?
What about public engagement? Has it been well handled (or - and more likely: should you start again)?
Are people against incineration? Do they understand that gasification is very different?
Pivotal was formed to not only implement its own projects and those of partners, but to help others with waste planning by developing "straw man" plans capable of implementation.
For business it reduces cost and risk, thus adding to the bottom line. We fully understand the importance of profit and risk;

For communities IRM is better for the environment and both cheaper and better for taxpayers. We fully understand the public dimension and government procurement.
IRM was reviewed by Dr. Charles McNeill, Manager of the United Nations Development Programme's Environmental Program Team, who concluded:
"I conclude that this IRM plan is conceptually sound and on the right track, and if implemented it would likely provide a model of great value to countless municipalities throughout the world."
IRM applies a business discipline to waste management, to maximize value from resource recovery. For more detail read the IRM summary or about our technologies.